Our Services
We take the time to get to know people better.
Anyone can screen for relevant job experience or salary range. But it takes highly experienced professionals to pinpoint those candidates with the intangibles that create a perfect fit. Our "between-the-lines" Résumé Analysis digs deep into the very DNA of the résumé.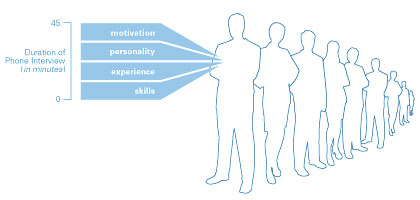 (+ Enlarge)

But to really know someone, it takes time to create a bond...time you don't have. That's why, for every position, Hyrian conducts 45-minute phone interviews that go beyond pat answers to discover if an individual's skills, experience, personality and motivation are suited for the company. So, while common wisdom might dictate that the best candidates never "job hop," never have typos on their résumé, always fit within prescribed personality profiles and always have direct industry experience, Hyrian has the unique skills and techniques to see the not-so-obvious potential that is often missed.

Hyrian also allows your hiring managers to get to know candidates better. With our complete Candidate Dossiers and Customized Interview Guides, they will be armed with the tools and information to discover the candidate's true potential.

if ($page !== 'workforclients' && $page !== 'clientAccess') { ?> } ?>